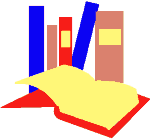 Updated: Dec 4, 2001
One of the great success stories of Internet commerce is book shopping. People buy millions of dollars of books on-line every year.
How does it work?
Internet ordering is not unlike ordering stuff from an 800 number. You tell them what you want, where to send it, and how you want to pay for it (usually a credit card), and they send you the stuff. Each store has a virtual shopping cart in which you can select as many books as you want, adding and removing them as desired, and only when you have exactly the books you want, you buy them and pay for them.
Money-saving tips
Each store sets its own prices. Our ``... For Dummies'' books are usually the same discounted price at all of them, give or take a few cents, but other books can vary quite a lot, particularly when one store is running a sale.

At each store, you pay a shipping charge per order, so the more books you order at once, the less per book you pay for shipping. Different stores ship different ways, and overnight express costs a lot more than book rate mail, so be sure to ask (and pay) for only the shipping you need.
The credit card question
We use our credit cards on line all the time, and we've never had any trouble. Indeed, despite all the fear and loathing, we've never heard of a credit card number being stolen in transit over the net. The only problems we've heard of are are the same kinds you encounter in real life such as goods not shipped, shipped late, wrong items, or damage in transit. These stores are all quite reputable and we've ordered from all of them successfully.

If, nontheless, you have problems ordering from any of these stores, please let us know at problems@gurus.com.
About the Stores
---
Amazon.com is one of the success legends of the Internet. Financial wunderkind Jeff Bezos, having made a a bundle in high-tech financial maneuvering in New York, headed west with a short list of ideas to make big bucks on the Net. Armed with nothing but grit, determination, and about ten million bucks, he started Amazon in Seattle, where it has grown into the largest bookstore on the net, and one of the largest book sellers in the world other than the giant chains like Borders and Barnes & Noble. They now also offer music CDs and an enormous and growing range of other stuff, but still lose money on every sale.

Amazon.com stocks relatively few books but can get nearly anything from their distributors in a few days. Shipping is usually Priority Mail, from Seattle or Delaware.
---
Barnes and Noble is the biggest brick-and-mortar bookseller in the world and they want to be the biggest online as well. After a rocky early start, their store is now quite competitive with Amazon. It's worth checking to see if the book you want is on sale at a better price than the other stores offer.

They ship from a warehouse in Virginia, delivery is competitive with Amazon.
---
Alphacraze is a small new online bookstore in Danbury CT. They can be kind of disorganized, but their prices are very low, consistently lower than most other stores. If you absolutely need it tomorrow, order somewhere else, but if price matters, they're worth a look.
---
The authors who run this web site now sell copies of several books direct, and can autograph them for you. Read all about it.
What's in it for us?
Amazon, B&N, and Alphacraze have Affiliate programs that rebate a small amount to the referring web site if you buy a book. The price you pay is the same whether or not they pay the rebate, and the rebates somewhat defray the cost of running this web site. (Nobody's getting rich from this site other than perhaps Jeff Bezos.) We sell the autographed copies ourselves.
What about other stores?
There are lots of other on-line book stores, but none of them we've found offer a combination of price and selection better than these.

Borders used to have a very nice online store, but closed it in mid 2001 and sent their online customers to Amazon.